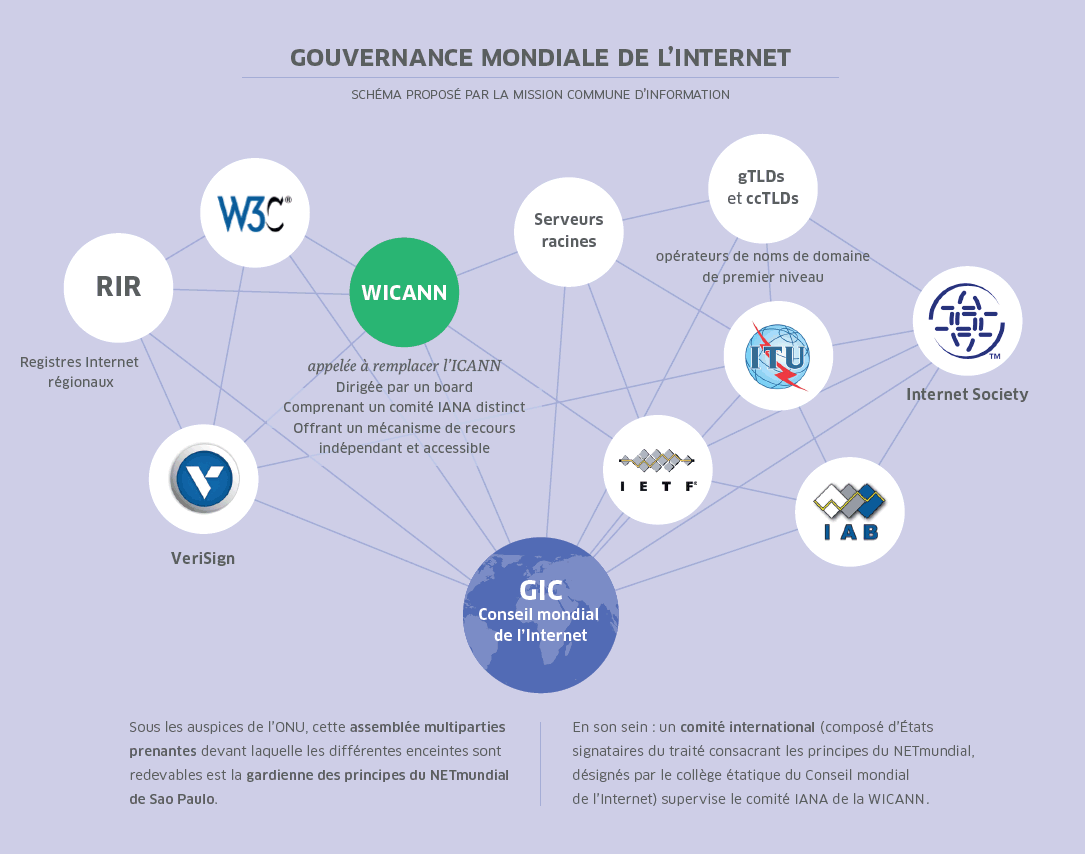 Graphic of Proposed Internet Governance and ICANN Reform - French Senate Report
Here's the link to the
English (Google) translation of the French Senate Report
--from the original French text: "L'Europe au secours de l'Internet : démocratiser la gouvernance de l'Internet en s'appuyant sur une ambition politique et industrielle européenne... "
Key points
: A new
World Corporation for Assigned Names and Numbers Internet
(World ICANN or
WICANN
) would
reform/replace ICANN
and would also be responsible for
IANA functions
assumed by the current ICANN, with
oversight by GIC - Global Internet Council
(leverage the Internet Governance Forum (IGF), the "most legitimate forum today" and at the same time multi-stakeholder, to erect a World Council of Internet (
Global Internet Council - GIC
)--
see graphic above
-- responsible for ensuring compliance with the principles of NETmundial on behalf of the international community).
Reforming or replacing ICANN is covered in Chapter II...
B. BUILDING A NETWORK GLOBALIZED, LEGITIMATE AND RESPONSIBLE ...
(subchapter headings below)
1. Globalizing Internet governance on the basis of the principles of NETmundial
a) Formalize the existence of a speaker system for a distributed and transparent governance
b) Transform the World Council of IGF in the Internet, and legitimate global governance fora coordinator
2. Rebuilding ICANN to restore confidence in the system of domain names
a) For a WICANN assuming the IANA functions under World supervision
b) Ensure accountability of WICANN and a real right of appeal
c) Avoid conflicts of interest
Note: Google Translate if far from perfect so you will need to correct obvious mistakes in translation.
The
full list of all proposals within the French Senate Report
(translated into English).
Follow @DomainMondo
Seguir a @DomainMondo